Touchless Automatic Car Wash – Is It a Good Business Opportunity Today?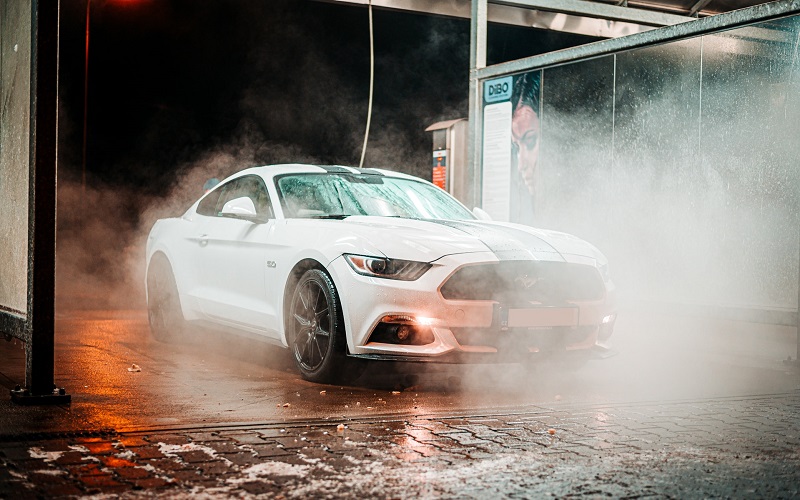 Is a touchless automatic car wash going to make you a successful business owner? The overall industry performance certainly looks encouraging. According to the latest analysis, the US car wash service market is expected to grow at a CAGR of 4.8% from 2021 to 2028. Furthermore, the automatic in-bay car wash segment makes up the largest revenue share of the market at 41.8%.
However, starting a car wash business involves careful research and planning. To aid your decision-making, compare different business models to get an idea of startup costs and demand. For example, research the differences between a brushless car wash vs an auto detailing business. Also, look at the following pros and cons of a touchless automatic car wash:
What is a Touchless Automatic Car Wash?
A touchless automatic car wash doesn't require brushes, bristles, or cloths to clean your customer's vehicles. You can choose from a touchless automatic in-bay design or a touchless conveyor tunnel system. Both types of car washes remove dirt and other contaminants without cleaning equipment touching the customer's vehicle.
Advantages of a Touchless Automatic Car Wash
Avoids Potential Damage to Car Exterior
Many drivers take great joy from owning and driving a pristine-looking vehicle. Therefore, "car pride" can greatly influence their favorite type of car wash. This is because of their concerns about potential damage to a car's exterior. Touchless vehicle wash systems will help to ease any fears about scratches to paintwork or accidental bumps and scrapes from car wash equipment.
Speed and Convenience of a Touchless Automatic Car Wash
The touchless automatic conveyor system shares two main similarities with an express car wash. Both are quick and convenient for the customer. If you're the business owner, a high-speed system is advantageous, too. When you wash a lot of cars within a given time, increased productivity means bigger profits.
Reduced Labor Costs
A touchless automatic car wash doesn't require the services of a detailing team in the same way a hand car wash business does. Therefore, you can reduce ongoing labor costs. This will help make your car wash more profitable in the long-term. Depending on which equipment you choose, you may not need anyone at all on site to supervise the wash operations. If this is the case, you can greatly extend your car wash opening hours and maximize profits, see below.
24 Hours Automatic Car Washing
An unmanned in-bay touchless automatic car wash gives you the option to keep your business open 24 hours a day. The latest equipment will have a touch screen operating system with flexible wash programming. This allows the customer to enter the car wash without staff help. Also, a fully automated car wash business will use a cashless payment system. This convenience appeals to customers who like to pay via their smartphone.
Latest Technology Attracts Customers
Research suggests that touchless car washing with improved technologies are driving the industry forward. You can impress customers with the latest tech and functions. For example, touchless robot car wash machines detect the three-dimensional measurements of a vehicle and clean it according to size. This helps to minimize product waste. You can also make your touchless automatic car wash a more visual experience by using colored foams.
Green technology is also good for business across the car wash industry. For example, a steam car wash can win new customers with the latest tech. Not only does it conserve water, but it also efficiently sanitizes vehicle interiors with sterilizing temperatures that are ideal for killing viruses with steam.
Disadvantages
High Equipment Costs
Can you afford to set up this type of car wash? Touchless car wash costs include buying or renting a site, ideally in a prime location where it will attract a high flow of customers. Prime location costs may be prohibitive. You also need to purchase high-quality touchless car wash equipment. Before you invest, research touchless car wash profitability to get a better idea of costs.
Be mindful too that equipment failure can happen. The time lag to fix a problem can be costly. Additionally, your equipment can quickly fall behind the competition because technology is always advancing. Ideally, invest in touchless equipment that comes with a free program upgrade included in your purchase.
Less Attention to Detail
Again, "car pride" can make customers uneasy about which car wash service they choose. Not everyone is going to like the use of chemicals and excessive water pressure that blasts the dirt off their car. Furthermore, a touchless automatic car wash might be too speedy for those people who prefer more attention to detail. For example, how well does your brushless car wash clean the chassis, wheel hubs and those other hard to reach places compared to a hands-on service?
Higher use of Water and Chemicals
The touchless automatic system relies on high-pressure jets of water and cleaning solutions to remove dirt and road grime from vehicles. It will probably also use an integrated chemical mixing system to apply no-scrub car washing liquids, foam and coating wax. These are not always environmentally friendly options. The lack of green credentials may discourage some car owners.
The modern touchless car wash systems apply the correct amount of solution for the size of the vehicle. This helps to reduce chemical waste. However, this is not the same as eco-friendly car washes that strive to lessen the impact on the environment. If this is part of your business plan you should check out waterless car wash opportunities and cleaning cars with steam.
Competition is Tough
There is a lot of competition within the automatic car wash sector. The low-cost of a car wash might attract customers but you need a high volume of customers for this to be a successful business model. Look at your pricing strategies and location. If you are going to keep your prices low, you need to attract higher numbers of customers to be profitable long-term.
Not a Full-Service Car Wash
Full-service car washes are not only popular with customers but also more profitable for business owners. However, a touchless automatic car wash is not a full service car wash. It does not offer interior detailing services. Therefore, you could be missing out on a lucrative sector of the market unless you decide to offer a combination of exterior and interior detailing on your site.
Is the Touchless Automatic Car Wash the Right Business for you?
A touchless automatic car wash is a good opportunity if you can afford to invest in high-tech equipment. Improved technologies are attracting new customers all the time. However, your business will lose out to the competition if you don't upgrade your systems. Also, while some customers prefer the lack of contact from brushes, wands or cloths, others will have concerns about the use of high-pressure jets and powerful chemicals to break down dirt.
If you don't feel confident about investing in a touchless automatic car wash, you can still be a part of the thriving car wash industry predicted to grow steadily over the next five years. If you want to make your business model more secure why not get the support of an established, market leading business behind you? For more detailed information be sure to check out the DetailXPerts franchise opportunity.
Download our Free Franchise Report. If you have already done that and like our business opportunity, please submit your Franchise Application Form to initiate your exciting franchise exploration journey.