Waterless Car Wash – Is It a Good Business Opportunity Today?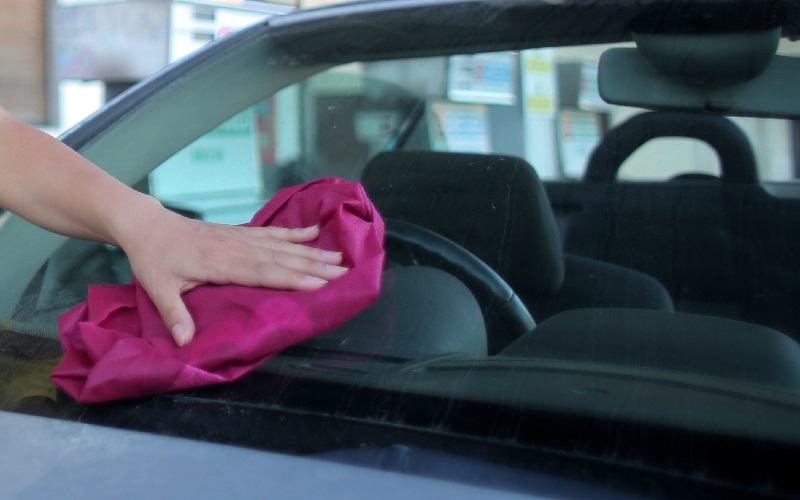 There is a good reason why the car wash industry attracts so many people seeking to explore business ownership. There is more than one type of car wash and each one has the potential to do very well. However, some car washes are more popular and profitable than others. Could a waterless car wash be one of those businesses that is going to fast-track your success? Read the following pros and cons to help you make up your mind.
What is a Waterless Car Wash?
Washing cars without using water? It sounds like an ambitious plan and yet washing cars without water is exactly what a waterless car wash sets out to do. The cars are cleaned using a range of waterless wash and wax products, not the traditional soap and water methods. Specific cleaning sprays and foams are used to soak into the dirt and grime and then emulsify. Instead of rinsing off the emulsified residue with water, the worker just simply wipe clean the vehicle using soft microfiber cloths to achieve a bright and sparkling finish. The no water is one of the main advantages of this type of car wash, see below.
Advantages of a Waterless Car Wash
No Water Wastage
The traditional methods of washing vehicles, for example a self drive-through car wash or using a hosepipe or a pressure washer, have always been associated with high water consumption. Therefore, a business like a waterless car wash that recognizes a problem within its industry and offers a solution is immediately off to a great start. This "thinking outside the box" will help you to set your car wash apart from the competition. It also targets the lucrative green car wash market. People are often willing to pay more for a service that shows responsibility towards the environment.
You can also explore other eco-opportunities within the car wash industry. For example, a steam car wash is considered a very good business opportunity. DetailXPerts has built up a solid reputation over the years by cleaning cars with steam. Less than 1 pint of water is used to clean and sanitize a car. For those customers who don't want to use waterless car detailing products and detergents, cleaning cars with steam is an effective green alternative.
Popular in Places with Water Restrictions
Geographical location can make all the difference to the success of a waterless car wash. There are now many states that restrict the use of water. Decades of drought conditions have resulted in a need for urgent action. States such as Arizona, Colorado, Nevada, Utah, New Mexico, and California are all striving to reduce water usage. Opening a waterless car wash in a drought-hit area can be seen as taking positive action in a climate emergency. If you choose the right location, such as California, it can be a profitable venue for an eco car wash business.
Mobile Car Wash Opportunities
You can also target customers who want the convenience of having a car wash delivered to their door. You can easily operate the waterless car wash and market it as a thriving business in the lucrative mobile car wash industry. Moreover, you are not reliant on a water supply or a wide range of specialized detailing tools. You will simply need to use specific waterless detailing products and soft cloths to clean the cars. However, bear in mind that your customers may often want more than an exterior clean. Therefore, you may need to invest in more car detailing equipment so you can extend the list of services you offer.
Disadvantages
Lack of Customer Confidence in a Waterless Car Wash
A car wash that doesn't use water is something new and different. Therefore, it can take time to build consumer trust and confidence because not everyone is familiar with waterless detailing products and their effectiveness. Some people are likely to have concerns about waterless cleaning products scratching their car paintwork. You will need to convince them that you only use approved products that clean effectively without scratching paint or wheel finishes.
Social media is a great way to explain the concept and show people what you do. For example, using Facebook for business will help raise awareness and explain how you go about washing a car without water. Other useful social media platforms include Instagram for small business and promotional campaigns will also help build consumer confidence in your car wash business.
Not as Fast as an Automatic Car Wash
A waterless car wash shares similarities with a hand car wash. The detailing work is done by hand to achieve a clean and polished finish. Although it is an effective way to remove road dirt and grime, a waterless car wash is a more time-consuming process than some of the other car wash competition. It can take 20 minutes to an hour to clean a car depending on the vehicle and its condition. This simply isn't fast enough for some people.
Note, customers who want their vehicles washed in 10 minutes or less are not going to be your target market. If you want a high turnover of customers in a short space of time, an express car wash business could be a better opportunity for you.
Labor Costs Can Affect Profits
An automatic car wash or a self service car wash requires minimum or no staff to oversee the service. This is not the case with a waterless car wash. You are going to need employees to be hands-on when it comes to cleaning the cars at your car wash. This requires you to train and build a reliable team to clean your customers' cars. They will need to be familiar with the right techniques, tools and products to ensure detailing work is carried out effectively.
Not all Waterless Car Wash Products are Eco-Friendly
The success of a waterless car wash comes down to the efficacy of its products. Most waterless wash products claim to clean, shine and protect a vehicle. However, what are the ingredients of these cleaning products? Make sure they have anti-abrasion properties otherwise you risk damaging paintwork. If you are going to address car wash environmental issues you have to make sure your waterless detailing products are biodegradable. You will also have to use generous amounts of these products each time you clean a vehicle, so factor this into pricing strategies for your car wash business, too.
Conclusion
Is a waterless car wash right for you? It depends on whether you are ready for a challenge. As it is one of the lesser-known types of car washes you are going to have to work hard at winning over new customers. Effective marketing will help to raise awareness of your business but this can take time and effort. However, a waterless car wash is regarded as an eco-friendly business and this will appeal to a lucrative target audience who want to do more to protect the planet.
Alternatively, why not opt for an established eco-friendly car wash franchise that will help you on the path to business ownership? Check out the DetailXPerts unique car wash business opportunity. Its successful vehicle wash and detailing services conserve water by using steam sterilization cleaning methods to achieve incredible results. We also offer startup assistance and advice, plus ongoing support to help you navigate your way in the competitive car wash industry.
Download our Free Franchise Info Kit to learn more. Simply click "Ready To Get Started" at the top right section of this page and fill out the form with your name and contact details.