Self Service Car Wash – Is It a Good Business Opportunity Today?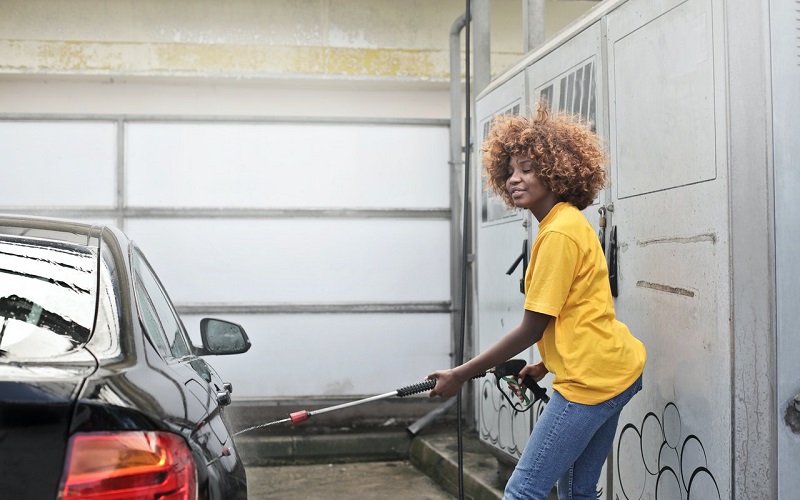 Car wash industry research predicts that the popular self service car wash segment will continue to exhibit strong growth for the forecast period up to 2025. Although automated in-bay car wash businesses hold the largest market share (almost 50%), a self service car wash business also has the potential to do very well. If you can successfully tap into the target market of consumers who prefer to wash their own vehicles, there is a great opportunity to make money. However, as with any car wash business, there are pros and cons to the business model.
What is a Self Service Car Wash?
A self service car wash is a manual car wash that gives customers the professional tools and cleaning supplies they need to wash their vehicle themselves in a designated bay area. This do-it-your-yourself approach literally puts the car wash job in the hands of your customers. They do everything from selecting the car wash program and desired wash time to foaming, washing, rinsing and polishing their car.
Advantages of a Self Service Car Wash
Popular with Customers
Although there has been a steady decline in the number of people washing their own cars at home since 1996, many people do still like to get hands-on and clean their own vehicles. However, they now want access to the latest car wash equipment and foams in order to make the job easier and more effective. This is where a self service car wash meets demand and has the potential to be a profitable business opportunity providing you invest in the right tools and technology.
Reduce Workforce Costs
The customer at a self service car wash cleans their own car. Therefore, you don't need to hire and train a team to fulfil car wash services as you would at a hand car wash business. This will reduce workforce costs and allow you to redirect this money towards investing in a good user-friendly washing installation system for your car wash business.
Maximize Profits with Pricing Strategies for Different Wash Programs
You can build a basic self service car wash with 2 or 3 wash programs. Alternatively, you can invest in state-of-the-art systems that are equipped with multiple wash programs. This gives you more flexibility with your pricing strategies for your car wash business. For example, it will enable you to lower your prices for certain wash programs while also introducing premium pricing for more comprehensive wash options. You can charge extra for:
High foaming wash
High gloss rinsing
Engine cleaning
Insect remover wash
Your average annual revenue very much depends on the number of units you have and the selection of wash programs and add-ons you feature. However, as a rough guide, a basic 2 bay operation has the potential to make around $40,000 per year.
Potential to Boost Profits by Operating 24/7
It is going to be a better business opportunity if you can secure a good self serve car wash location. For example, research populated areas where there will be a higher number of potential customers. You can increase profits further still with longer opening hours. For example, a 24/7 car wash is convenient and popular with those who want to wash their car outside of normal business hours. 
Low Maintenance
Investing in the latest washing technologies will help to reduce maintenance costs. Modern self service car wash systems are designed to be easy to run and maintain. However, buying the top-grade car wash system can work out expensive. See below.
Disadvantages of a Self Service Car Wash
Higher Startup Costs
Self serve car wash startup costs can quickly add up. As well as equipment, there is the cost of land, construction and installation. Are you thinking about a single station self service car wash area or will you invest in a multi-bay operation? Will you choose to build a standard steel structure or brick design to protect the wash bay and your customers from the elements, or do you have an existing building that can accommodate the car wash unit/s? The answers to these important questions will determine your startup costs.
You need to include payment systems and control panels in self service car wash startup costs. Note, you will pay more for the latest technologies such as touch-screen panels and multiple payment options (cashless payments and digital tokens). However, bear in mind, this initial outlay is a good investment if it enhances user experience and encourages more people to visit your car wash.
High Water Usage
A self service car wash relies on a pressurized water sprayer wand to clean cars. This results in high annual water consumption when you regularly have hundreds of customers and their cars passing through your car wash. This water usage won't sit well with the environmentally conscious customer who wants a more eco car wash. Ideally, seek out eco self-service cleaning systems. Alternatively, explore other car wash options that promote green cleaning. For example, DetailXPerts cleans vehicles using steam technology.
Using a Self Service Car Wash is Time-Consuming
While people might like the idea of washing their own cars, busy schedules tend to put them off. A self service car wash is not an express car wash. It takes time, effort and experience to clean a car to the highest standards. Furthermore, not everyone is comfortable with using the car wash wands. It is a high-pressurized piece of equipment. This is why so many people leave it to the professionals! See below.
Lacks the Professional Touch
A self service car wash is great for those who want to upgrade the home-wash experience. It allows them to swap the garden hose and sponge for more sophisticated washing tools. There is also access to specialized cleaning foams, dryer equipment and often an option to purchase add-on services. However, this DIY cleaning process simply cannot replicate the high-end work of the professional detailers who know how to achieve a superior exterior and interior clean.
Conclusion
There will always be a consistent number of consumers who enjoy washing their own cars. This target market is key to the success of your self service car wash. Prioritize a wide range of wash programs because if customers spend more time at your car wash using the foams, waxes, air dryers and so on, it will lead to higher profits. However, you need to be prepared to invest in the latest equipment and technologies to ensure a cost-effective business model.
Be mindful, however, that busier lifestyles and time constraints mean that many people simply don't get around to washing their own car. As a result, they delegate the job to the professionals. Therefore, this is another type of car wash to consider. For example, why not check out the DetailXPerts opportunity. You will discover the flexibility a detailing business offers and the potential to build a profitable business.
Do you enjoy keeping up to date with the car wash world? Then take a moment to follow DetailXPerts on LinkedIn. Join the conversation and keep in the loop with all the latest news.