7 Car Detailing Marketing Ideas to Help You Stand Apart from the Competition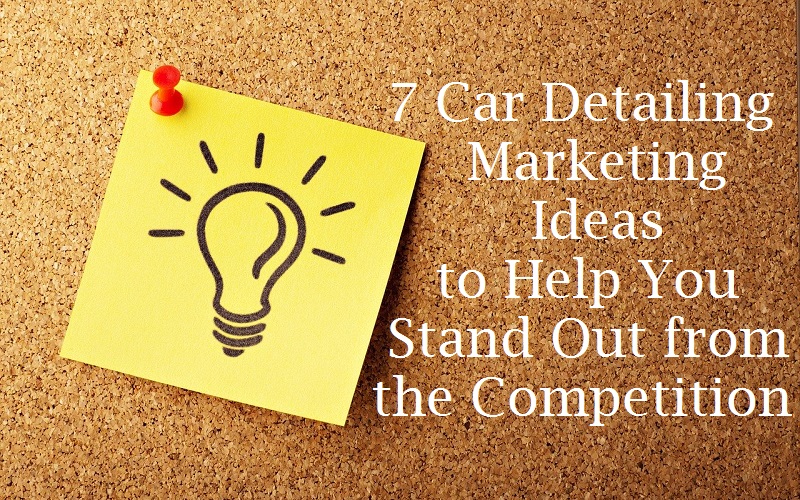 There are currently over 65,000 businesses in the US car wash and auto detailing sector. This makes it harder than ever for a car detailing business to be prominent and attract customers. It is clearly a competitive market but it is also a lucrative one. Industry statistics reveal that the market size of the car wash and auto detailing industry in the US is $13.3 billion. The strong growth rate over the last five years is predicted to continue with an increase of 3.1% in 2020. How do you make your business stand out from the competition? Start with a good market research strategy for your car wash business, then consider these car detailing marketing ideas to help you achieve maximum success:
Car Detailing Marketing Ideas to Stand out in a Crowded Market
1. Use Videos to Highlight Differences and Benefits of Your Car Wash
A good value proposition underlines your marketing plan. It articulates what differentiates your car wash business from other local car washes. For example, if you are running a mobile auto detailing business, your marketing material should highlight the "convenience" to your customers. Creative car detailing marketing ideas must include ways to communicate value proposition. You can achieve this with an engaging marketing video. The benefits are:
Videos show people the value of your car wash in less time than it takes them to read about it, which is important in our fast-paced world.
Video has visual impact and strong reach on social media.
People can easily access video content on their mobile devices and smartphones.
Short videos can be posted on YouTube, your website, social media or embedded in your marketing emails to highlight the differences and benefits of your car wash.
Not only does video capture your target audience's attention but it also greatly increases your chances of showing up in search engines.
2. Explore Different Visual Content Car Detailing Marketing Ideas
Visual content marketing is not just about creating videos. It also includes infographics. This is a powerful marketing tool when you want to stand out in a crowded market. Bold and colorful infographics draw the customer's eye to your brand. It also educates customers about the benefits of your car wash or detailing business. For example, if you are committed to making your car wash an eco-friendly business, infographics can highlight:
How much water you save in comparison to your competitors
Easy-to-read information about eco-friendly car wash products
What is included in your full car detail or different car wash packages
Car detailing marketing ideas that explain the benefits of your business are useful to the customer, especially for those who like to research products or services before buying them. It is easy to create beautiful infographics online with sites such as Venngage or Infogram. Basic usage is free or you can pay a monthly fee to access even more graphics and features.
3. Boost Sales with Storytelling Marketing
Create an emotional connection with customers with storytelling marketing. Meaningful narrative communicates your brand message, which helps customers to identify with your value proposition and goals. For example, if you are passionate about providing auto detail services in an environmentally friendly way, share this story to convey your values and differentiate your brand. Your storytelling should:
Introduce you and your business to your customers
Share your dreams and goals
Reveal what motivated you to start your business
Be honest about your failures and successes
Show the personality behind the brand
You can choose from different design platforms to help you with your car detailing marketing ideas and storytelling. For example, check out Ceros.
4. Connect with Customers on Social Media
People are spending an increasing amount of time online. Research reveals that worldwide daily mobile internet consumption is set to increase to 155 minutes in 2021. This time spent online includes researching products, goods and services. If people are looking for their nearest car wash, make sure you show up in their search. Location targeting on Facebook targets specific users based on their location. You can also use social media to:
Read what your customers have to say about your car wash. You can use this information to help build a better, stronger brand.
Share "before" and "after" photos on detailing jobs.
Post photos of you or an employee washing a car on a customer's driveway to highlight the convenience of your mobile detailing business.
As you explore different car detailing marketing ideas, you need to keep up to date with digital marketing trends in the industry. It is also advisable to check out what other car wash businesses are posting online. Locally, this will keep you in touch with what your competition is offering. Nationally, it will keep you aware of trends and new ideas. This will help you to keep focused and relevant in a competitive marketplace.
5. Use Emails to Personalize Your Car Detailing Marketing Ideas
Emailing personalized content to your customer will make them feel valued and special. Keeping track of a customer's car wash preferences is easy to do with a Customer Relationship Management (CRM) system. You can use this information to create email content that will appeal to your customer. This can include:
Introducing new car wash services
Sharing news about special offers and promotions
Inviting them to events at your car wash
Rewarding them with a discount on their birthday
Connecting with customers on a more personal level helps to establish relationships and encourages customers to recommend your business. As with all car detailing marketing ideas, keep content and images engaging and relevant, otherwise the message loses its impact in a crowded, competitive market.
6. Attract Attention with Flyers and Posters
Keep brainstorming your car detailing marketing ideas. Surprise people with a different approach. If your car wash competitors are mostly marketing online, widen your approach by using offline marketing collateral. Posters, graphic flyers and auto detailing business cards can all drive results. You can create free professional-looking flyers with Adobe Spark that can be shared both offline and online. Remember to:
Keep information brief
Encourage your customer to get in touch
Include car wash contact details
Handing out flyers and business cards is also a great opportunity to talk to customers face-to-face. Finding out what they want from their car wash is another valuable form of market research that can help to generate fresh car detailing marketing ideas.
7. Give Back and Make a Difference
Stand out in the local car wash industry by giving back to the community, the customer and the environment. It doesn't have to involve grand gestures and you don't have to give back all at once. Small actions can make a big difference to your customer. Car detailing marketing ideas and strategies that give back include:
Loyalty reward programs to incentivize repeat business
Hosting events in your community
Protecting the planet by doing more to save water at your car wash
Use your ideas to create inspiring content for your marketing material. Increasingly, people want to be associated with brands that do more to protect the environment while still providing an excellent service.  
In Conclusion
There is a great range of car detailing marketing ideas for you to explore. Mix up digital marketing with traditional marketing material to broaden your reach. Get creative with your efforts and produce engaging content from the wide range of online tools available. This will help to make your car detailing marketing ideas and efforts shareable and easier to find on search engines.
For more ideas and inspiration, check out the DetailXPerts franchise opportunity. We regularly communicate within our franchise network, providing ideas and support for exciting and revenue-boosting detail business marketing and sales strategies.
If you have enjoyed this post and are interested in the franchise business, continue the conversation on our LinkedIn page.