Retail Franchise or Car Detailing Franchise: Which Is Better for You?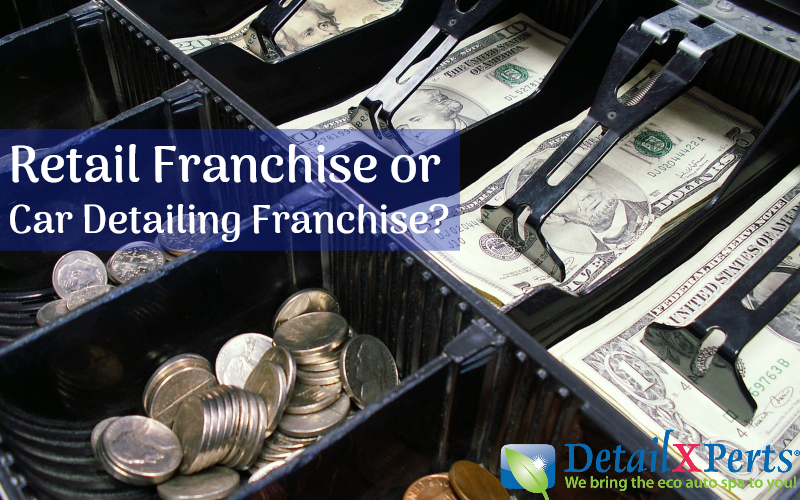 A retail franchise has the potential for both great profits and job satisfaction, providing you choose your product or services wisely. Retail is a huge sector of the market. Therefore, finding a franchise that you are passionate about shouldn't be a problem unless, of course, you become overwhelmed with too much choice. So, how does a retail franchise compare with a car detailing franchise? Take a closer look at both types of franchise to see which one is best suited for you.
Retail Franchise or Car Detailing Franchise?
Target Market
The retail franchise industry has a wide target market, due to the huge variety of products and services available. For example, there are a lot of coffee drinkers out there: 50% of Americans (over 150 million people) drink coffee daily. The popularity of this beverage makes a coffee franchise well worth considering.
If you want to be in the coffee business but would prefer to narrow your focus and fine-tune your marketing strategies, why not tap into the specialty trend (e.g., cold brew coffee) where your target market is the under-40 demographic? A specialty coffee retail franchise like PJ's Coffee could be your route into this growing retail market.
An auto detailing franchise also enjoys a wide target market appeal. You are marketing to business and residential clients who own or lease vehicles. The significant growth of the courier/delivery sector also opens up business opportunities for auto detailing and car wash services. Home-delivery cars and vans represent a brand. Therefore, it is the company's best interest to keep them looking clean and pristine to make a good impression with customers.
You can narrow your focus within the car detailing franchise industry, too. Go after the booming green business market. People are increasingly seeking out environmentally-friendly products and services, including car washes and detailing. DetailXPerts, Green Shine, No-H20 are examples of green car wash franchises worth looking into.
Cost to Enter the Retail Franchise and Car Detailing Franchise Market
Startup costs vary greatly within the retail franchise world. For example, a popular food franchise has excellent earning potential but it comes at a price. Marco's Pizza costs range from $293,515 to $619,710 for a traditional store with limited seating. Popular and profitable, a retail food franchise is worth exploring further if you have a sizeable amount of capital to invest.
Alternatively, if you are looking for retail franchise opportunities with lower startup costs, check out business models that don't require a physical location and allow you to work from home. For example, a matchmaking services franchise is built around an online business model with startup costs around $15,000.
The cost of starting a car detailing franchise is comparatively low when compared to some of the more competitive retail franchise opportunities, especially those in food retail. Our eco-friendly steam detailing franchise has startup costs ranging from $88,500 to $195,100, including an initial franchise fee of $35,000. If you are interested in detailing but don't want to invest in an auto detail shop, DetailXPerts also offers a mobile detailing business model to franchisees. 
Future Growth
The future of the retail franchise industry is mixed. Businesses that successfully incorporate online shopping into their business model will fare better than solely brick-and-mortar stores that fail to recognize a shift in consumer behavior. Nowadays, the focus is firmly on experience and convenience. People like shopping via mobile devices, also using them to research products and compare prices. If you do want to open a store, check out successful retail franchise businesses like Ace Hardware that sells a wide range of goods for general home improvements. It recognizes the importance of convenience and allows its customers to buy online and then pick up at their store of choice.
The car wash and auto detailing business in the US is in robust health. Market size, measured by revenue, is $12.6 billion in 2020. With regards to growth rate, it is expected to increase by 2.3% in 2020 alone.
Even during times of economic downturn, people turn to car detailing and maintenance as a way of protecting their investment and prolonging the life of their vehicle. Furthermore, people are not just looking after the health of their car – personal health is of the utmost importance, too. Customers want to sanitize the interior of their vehicles. For example, a steam detailing franchise sanitizes and sterilizes car door handles and interiors, including the steering wheel and other controls, killing germs, bugs and bacteria.
Location
If you are considering a retail franchise that requires a fixed location, it needs to be accessible, visible and near communities, colleges or businesses in order to attract families, students and workers who want to spend on clothes, food, etc. You need to attract as much footfall as possible. There are, of course, exceptions. For example, a photography franchise does not tie you down to one place – you simply go to whoever or whatever needs photographing.
Similarly, your auto detail shop with a fixed location will ideally be in a high-traffic area. If you have your sights set on a mobile detailing business, your place of work is not an issue. A mobile business gives you the freedom to work from home and simply take your business to the client. This is also an attractive proposition for the busy customer.
Ways to Add Value to the Business and Other Considerations
It is also important to bear in mind seasonal effects on a retail franchise. Does it have year-round appeal? An ice cream franchise has the potential to do a roaring trade during the warmer weather and summertime. However, profits can dip during colder winter months when people turn to warming treats such as hot beverages. In contrast, there is a demand for car detailing throughout the winter and summer months.
Highlighting eco-friendly features of a franchise can add value to the business. For example, a car wash that specializes in water-saving methods appeals greatly to green-minded consumers. Also, a clothes retail franchise that sells secondhand clothes is popular with the rising numbers of socially-conscious shoppers who are mindful of the negative impact fast fashion has on the environment. Clothes retail franchise opportunities in the secondhand market include Plato's Closet.
Car maintenance services and convenience are other good ways to add value to any car detailing franchise. For example, engine steam cleaning, tire dressing and mobile car wash options can help to make a business more profitable.
Conclusion
In conclusion, there are exciting retail franchise opportunities to pursue within growing sectors such as secondhand fashion, home-delivery pizzas, daily coffee, or DIY services. Likewise, a car detailing franchise can be an exciting and highly profitable business. New technology and innovative green cleaning systems are changing the car wash industry for the better. Check out the DetailXPerts green franchise application process – this is a great starting point. It explains the step-by-step guide to becoming one of our successful franchisees.
Finally, don't forget to follow DetailXPerts' LinkedIn page for more business and franchise news, updates, and conversations.