What Mobile Detailing Business Income Should You Expect the First Year?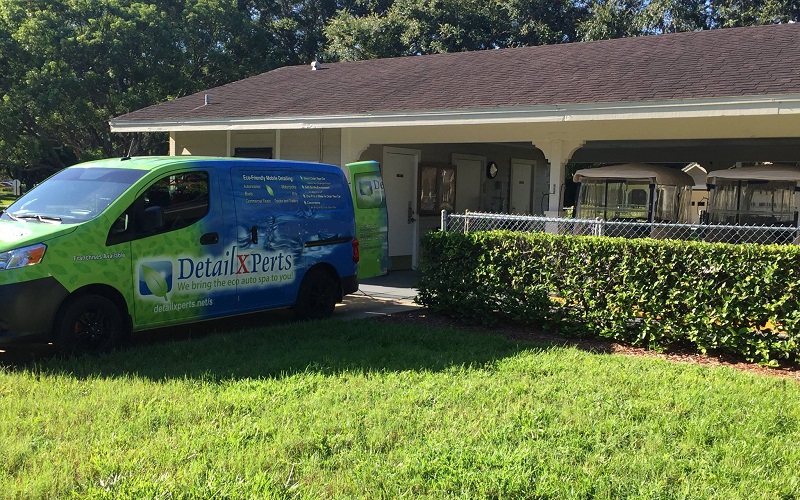 You've just started your mobile detailing business and there is money to be made. Just how much money are we talking about and is mobile detailing profitable? According to online recruitment sites, mobile detailing business income can range from $50,000 to $75,000. These are ballpark figures and you have the power to adjust them accordingly. You're not restricted to (or paying for) a fixed location, so you can go to wherever your services will sell. You can choose to work as many hours of the day as you want. Start-up costs are generally low and earning potential is high. Mobile detailing is as profitable as you want it to be.
However, small businesses starting out must be realistic about profits. Mobile detailing business income can be considerably less than $50,000 in the first year, even when working on a full-time basis. Business can be slow-going at first; car wash success takes time because it is built on reputation, pricing, performance, and customer satisfaction. Here are some other factors that can positively or negatively influence income, too:
Factors Which Can Affect Your Mobile Detailing Business Income in the First Year
Creating a Strong Foundation for Your Brand
Think long-term success. The hours you work directly impact upon your income. In the first year, "finding your feet" involves developing the right professional detailing services and price packages; building a solid customer base; managing finances; working on marketing strategies and creating a presence on social media channels. It takes valuable time away from detailing cars and this may negatively influence your income in the first year. Thereafter, however, the hard work you have put into creating and acting upon your mobile car wash brand strategy, along with the experience you've gained establishing the business, should show an increase in your mobile detailing business income over the following years.
Attracting and Retaining Customers
Think about marketing. If customers don't know you exist, it will negatively influence your income. In the first year, you are new to the business and yet to establish a presence in the area. This is where mobile auto detailing business management can put your brand out there. First, get to know your target market and research their detailing needs. Customize services to attract clients. Create add-ons and bonuses to encourage repeat business. Set aside a budget for marketing (online ads, fliers, print ads) to let the public know who you are and what you do. Word-of-mouth recommendations have a positive influence as well. As you grow your customer base in the first year, your mobile detailing business income will grow, too.
Sharing Roles and Responsibilities
Think of the potential. There is only so much you can do on your own, especially when you are starting out. This limits your mobile detailing business income potential. However, hiring someone, or several people, could see profits soar. For example, if you can make $800 per day detailing cars from a single mobile unit, think of the money to be made from three, four or five mobile units. Finding and hiring the right people will help you share workload, roles, and responsibilities. This, in turn, will allow you to do more mobile detailing to maximize earnings. Alternatively, invite family members to join your team. Family-owned businesses built on trust and understanding can be a viable option when it comes to mobile detailing.
Adding Special Services to Boost Mobile Detailing Business Income
Think about upselling. Increase your profit margins in the first year by offering extra services alongside the traditional car wash. There is serious money to be made in air sanitation, paint corrections, polish and sealant jobs, windshield repair, minor or major dent repair, tire dressing, engine cleaning and dressing, premium interior detailing that includes shampooing carpets and upholstery. Add-on services generate more profits and can positively influence your mobile detailing business income by hundreds-to-thousands of dollars per week.
Charge More Than You Think You Need to
Think about costs. Work out your expenses. Do your sums. Billing too low will prevent you from growing your income in your first year. Small businesses need to price their product with confidence, even though it is tempting to attract customers by knock-down deals and discounts. It might undercut the competition but it will also negatively affect your income. Instead of going low on price, place emphasis on "value" for excellent work. Be affordable, not dirt cheap. Increase your auto detailing revenue by pricing your detailing services wisely.
Capitalizing on Your Mobile Appeal
Think about convenience. Modern consumers are busier than ever and want services delivered to their doorstep; they don't have time, inclination or the energy to drive to a fixed location to get their car washed. In light of this, your mobile detailing business income can be positively influenced by marketing to millennials who prioritize convenience. You can take your mobile unit to their driveway. You can detail cars at their place of work. Overall, you can make life easier and simpler for them and this is exactly what they want.
If the idea of a thriving mobile detailing business appeals to your ambitious entrepreneurial side, take a closer look at what the DetailXPerts franchise system can do for you. The information kit contains everything you need to know about starting a car wash business.
There is so much more franchise news we'd like to share with you. Contact us or sign up to our monthly newsletter to get the latest updates and learn more about running a successful car wash franchise.