Press Release: Newest Car Wash Company in Sarasota and Manatee Counties, FL to Deliver Race Car Pit Stop Consistency and Results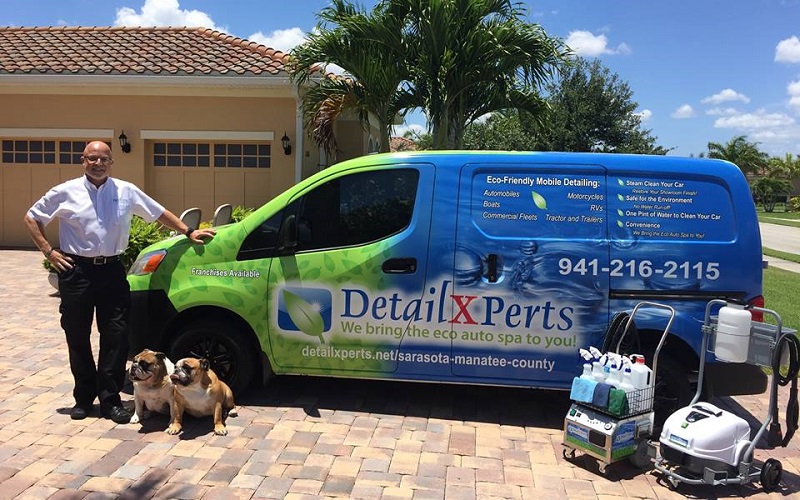 How about having your vehicle fully washed and detailed to perfection by a car wash company that promises to deliver race car pit stop results? That spells quality, efficiency, accuracy, and speed. These are qualities that all vehicle owners in Manatee and Sarasota counties definitely search for.
And this is exactly what DetailXPerts of Sarasota-Manatee County, the best car wash company in the area, promises to provide its clients. Topnotch detailing using superior quality products, efficient customer service, and more! Now pet hair, sand, tree sap, and other contaminants will no longer be an issue for vehicle owners in the area.
No Simple Car Wash Company
Why is DetailXPerts the best news in the area this year? To start with, it's no simple car wash company. It's a unique detailing philosophy. Not your typical neighborhood service that would use tons of water and harmful chemicals, but an unforgettable experience for you and your beloved possession. It's the steam auto spa coming to your door, at your convenient time.
DetailXPerts is the world's first environmentally-friendly vehicle wash and detailing franchise to use the ecological power of steam. With it, we clean all types of cars, jeeps, SUVs, pick-ups, trucks, vans, motorcycles, RVs, boats and more. Thus, we save water and preserve nature while delivering incredibly superb results to clients. Our unparalleled services are now available in Sarasota and Manatee counties thanks to the latest franchise DetailXPerts of Sarasota-Manatee County. This piece of exciting news has already stirred much attention in the area.
Clients and witnesses of the process are truly impressed to learn that this car wash company uses its own patent-pending method. It not only restores their vehicle to a like-new look, but also sanitizes and disinfects it. It removes about 99% of bacteria and harmful microorganisms, leaving the vehicle fresh and healthy for both driver and passengers. Plus, they are fully mobile and can come to your place of living, work or play and service your vehicle at your most convenient time.
Meet Bo Mortensen, DetailXPerts of Sarasota-Manatee County's Owner
Bo Mortensen dedicated his entire life to managing meat operations and selling equipment to the food manufacturing industry. He was responsible for developing, improving and executing complex operational systems. Therefore, he is fully aware of the importance of cleanliness and sanitation. Failure to observe excellent hygienic standards can affect food taste and quality; cause spoilage; become carriers of food-borne diseases; and ultimately, lead to huge losses.
Similarly, improper cleaning of a vehicle can shorten its life and damage its appearance. Worse, it affects the health and well-being of the driver and passengers alike.
"I love the eco-friendly aspect of the DetailXPerts system. Water conservation is important to us here in Florida, having just gone through a historic dry season. We were dealing with water restrictions and wild fires, so I'm all about processes that are sustainable and environmentally friendly.

DetailXPerts' steam cleaning method is very interesting to me, again coming out of the food industry where sanitation and cleanliness are very important. Steam is a superior way to clean and sanitize using much less precious water and hardly any chemicals. I really enjoy the ability of speed and consistency to get the job done. I think it's a great technology and I think it does a great job.

It's not only a great concept. It's also a great experience for the client. You know, we leave their driveway and you can't see that we were there, not a drop of water left behind. I totally enjoy that aspect. It's a little bit like magic!"
As a former operations manager, he understands the significance of being in a business where there is no clear dominant leader on a national plan. When he decided to start his own car wash company he knew he wanted one that went back to the same clients continually. Thus, it would be possible to build closer relationships with them. And he favored the idea of a scalable business that could be operated from virtually anywhere. DetailXPerts met all of his requirements.
A Race Car Pit Stop-Like Show of His Own
Bo doesn't want to "just clean cars". He wants to put on a show, the way race car pit stop teams do – synchronized, precise movements brought about by consistent practice. He wants to focus on training his crew to do the same thing repeatedly to ensure the client is happy and the quality of the product is top notch and consistent every time.
"As a client, you should expect the same superior result every time we show up to detail your vehicle, no matter what team is there. From the time the team arrives and until they leave every action is precise and synchronized ensuring a great consistent result every time, we guarantee it. When we leave our clients, all traces left are a perfectly detailed vehicle. It's the real white glove treatment all the time, while drastically reducing chemical usage and protecting our precious water resources. You have never seen an interior detail like ours.

Pet hair, sand, stains, and sticky fingers are no match for us. It's cleaner than new and we leave no harmful chemical residue behind. Our steam process is simply the best."
Aside from car wash and auto detailing, DetailXPerts of Sarasota-Manatee County also offers wash and detailing services for trucks, vans, RVs, boats, aircraft, fleet, and more! Their specialty services also include engine steam cleaning, headlight restoration, removal of minor scratches, and others. Their trained professionals took seminar sessions on eco-friendly mechanisms and proper handling of vehicle cleanliness issues. For inquiries and special rates, call them at 941-216-2115 and schedule an appointment right away!
Interested in exploring the unique franchise opportunity that DetailXPerts offers? Sign up for our monthly newsletter to stay updated on all things franchise!