The Magic of Car Wash Coupons to Attract New Customers and Build Loyalty
As with anything else, car wash coupons must be used wisely in order to reap the benefits that they can provide. These coupons can increase the influx of customers, both new and old.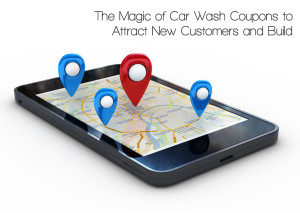 Innovation plays a major role in ensuring the success of any business. Ask any successful car wash owner and he will probably tell you that thinking of new promotions and giveaways which he disseminates through car wash coupons established his customer base, secured their loyalty and increased his bottom line.
Unleashing the Power of Car Wash Coupons
As with anything else, car wash coupons must be used wisely in order to reap the benefits that they can provide. These coupons can increase the influx of customers, both new and old, but cannot assure you that those customers will return once they run out of coupons or when the promotion is over.
So how can you utilize car wash coupons in your marketing efforts and employ customer loyalty marketing strategy in your detailing business? Here are some tips:
1. Attract new customers
Coupons are age-old promotional tools that almost all types of businesses use them to catch the attention of new customers. However, business experts warn about using coupons for this purpose alone. Never lose sight of your profits just because you want to attract new customers. Always create them with dual purposes in mind – with each purpose benefiting both you and the client. For example, car wash coupons that state, "Every new customer who brings in his vehicle on Sunday gets 10% discount with coupon code XX" not only attract new customers but also generate sales on Sunday, generally a slow day for a car wash.
2. Cross-sell
Let's face it – there are customers who only visit your shop just to take advantage of the coupons you supply them with. But what happens after the coupons run out? They head on to another car wash that gives coupons away. This is why you also have to take advantage of the situation; cross-sell to these types of customers while they are still using your coupons. You can offer auto detailing supplies or products from your business amenities.
3. Increase customer loyalty
People who use your car wash coupons get a sample of your services. Once new customers see the difference that you can make for their prized possessions, they will return often and even spread the news about your excellent services. This will establish your customer base and build their loyalty as well. Reward your loyal customers with coupons that say "Every customer who schedules his appointment within 2 months of his previous detail will get 20% off with coupon code YY", and you will assure yourself of regular sales every two months.
4. Target a specific group
With more and more women driving their own cars and frequenting car washes, coupons that state, "Every customer who comes in to detail their vehicle on International Women's day will get a gift card for something (related to women's day)" are definite clinchers. These women will love you for making them feel important on their special day, even at the price of having their cars detailed before they actually get something for it. Yes, it is the thought that counts.
5. Promote another business
Through cross-promotion, you can tie-up with other businesses so that each of you can benefit from it. For example, you can offer a certain discount or even free services to your neighborhood restaurant so that they will give away your car wash coupons to their customers and vice versa. You can create a coupon that says, "Every customer who avails of interior car detailing gets one free soda in Restaurant XXX". The reward may not be as much, but they will appreciate a free drink especially on a hot summer day.
6. Attract repeat purchases
Experts say that it is easier to attract new customers than to maintain them. Not to mention that your customer base is the source of your existing revenue. Yes, new ones will use the car wash coupons you have issued, but this does not guarantee that they will come back for more. There is, however, a trick that can turn new customers into regulars without hurting your bottom line. No, it's not the get-a-free-wash-after-ten-washes or something like that. What really makes customers come back for more? It is still the combination of efficient services, quality products and topnotch customer services that seal the deal between you and a new client.
Keep these tips in mind if you do decide to create car wash coupons for your business. Or why not become a DetailXPerts franchisee so that you will be able to benefit from our marketing knowledge and expertise?
Enjoyed this post? Sign up for our newsletter to receive more valuable business and franchise info, ideas, and extras!