10 Steps in Marketing Planning Process for Your Car Wash
Without a clear framework, the implementation of your marketing plans can and will easily go awry due to the many moving parts required to work towards its success.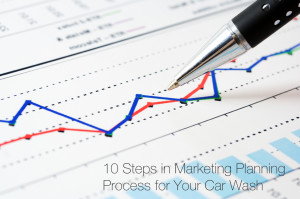 The chaotic, hostile and complex marketplace in which businesses compete makes it imperative that business owners formalize their steps in marketing planning process. Without a clear framework, the implementation of your marketing plans can and will easily go awry due to the many moving parts required to work towards its success.
In this post, we want to flesh out the four stages touched upon earlier with the requisite ten steps in marketing planning process for your car wash.
Stage 1: Goal Setting & Analysis Of The Current Situation
Step 1: Mission
Begin with your organization's mission by asking what does success look and feel like to your car wash business? Is your ultimate goal to be a lead contender in the eco-friendly car wash industry? Or is it to create employment and training opportunities in the communities you serve? Your response will help to set the vision of your business.
Step 2: Corporate Objectives
Although corporate objectives are often presented in broad financial terms that gives direction to the marketing plan; you may consider a different approach such as to provide impeccable car wash customer service or to build a resilient and sustainable business. Whatever they may be, they should be quantifiable and time framed, in order that they can be tracked, monitored and adjusted, should the need arise.
Step 3: Marketing Audit
The success of your car wash business is not just based on the products and/or services you offer. As one of the steps in marketing planning process, a regular, systematic and independent dissection of your entire marketing environment – the industry situation, the market situation and the competitive situation – or a marketing audit is a must.
This dynamic research involves talking with your staff, suppliers and other stakeholders; and weighing in previous published reports, business and market plans, budgets and market research to gather marketing intelligence. The purpose is to determine if there are bottlenecks, opportunities or threats that were overlooked. Plus, to yield new insights, ideas and proposals.
Steps in Marketing Planning Process
Step 4: SWOT Analysis
The next steps in the marketing planning process after marketing audit is to act on the results of your findings by carrying out a Strengths, Weaknesses, Opportunities and Threats (SWOT) analysis. This analysis helps to put your finding into the context of the bigger picture as it takes into account, current industry trends, your competitors, your company's status quo as well as that of your customers.
Step 5: Marketing Assumptions
As there are many factors that are beyond your control such as prevailing business, economic and market factors, and, what your competitors' moves will be, you will have to make some educated guesses. Some of which may include interest rates, market size and movements. This is in order that you can quantify them to draw out your plan of action. In the event that they change during the duration of your plan, you will need to revise it accordingly.
Stage 2: Creating the Marketing Strategy
Step 6: Marketing Objectives & Strategies
When your fact gathering, assessments and analysis steps are completed, you are now equipped with the information to decide, plan and develop your marketing objectives and strategic initiatives. This is crucial in your steps in the marketing planning process as these initiatives give direction to the tactics or specific statements of activity needed to help you achieve your car wash business objectives and goals. Examples of these may be, new ways to deliver your services to your customers or improved service range.
Step 7: Forecasts Of Expected Results
Let's say one of your strategies is to deliver your services to your customers in a new way for example, mobile car wash services. You must anticipate what the response rate will be in order to prepare a fair amount of resources for its promotions and to meet the expected demand thereafter. As it is a new service, your estimates will involve forecasting into the future based on their past buying history, responsive rates and current activities.
Step 8: Create Alternative Plans
The marketplace is full of competitors, direct and indirect. To stay ahead, you need to regularly assess your initiatives and to have alternative plans in case your strategies fail to deliver the results you need or anticipate. For instance, if your print advertising initiative is delivering low responses as compared to your online advertising, you may need to shelve it or re-channel some of its resources to your online campaign. You need to be vigilant and ensure you have option plans to counter deviations and to ensure the best chance of success over your competition.
Stages 3 & 4: Allocating Resources & Monitoring
Step 9: Marketing Budget
You are now at the final steps in the marketing planning process where you will have to address the budget resources and develop your detailed marketing budget for the next year. There are several methods that are used to determine what the allocations should be. Examples of these include – a percentage of revenue, according to industry norms, historical spending or a combination of each.
Step 10: Detailed Action Plan
This is the home stretch of your steps in the marketing planning process, such as, the implementation and control phase. This is when you will need to obtain the budgeted resources; draw out how the marketing is to be organized and develop the schedules for their execution.
Next, you will have to monitor the plan to ensure it is delivering the results as planned. Should there be deviations, you will need to take quick corrective actions to reduce or contain them while optimizing on the positives.
If you found this "10 steps in marketing planning process" helpful, and want to learn more, do check out our DetailXPerts opportunity to take advantage of our marketing knowledge and proven practices, which we extend to all our franchisees.
Enjoyed this post? Sign up for our newsletter to receive more valuable business and franchise info, ideas, and extras!