What Equipment Is Needed for an Auto Detail Shop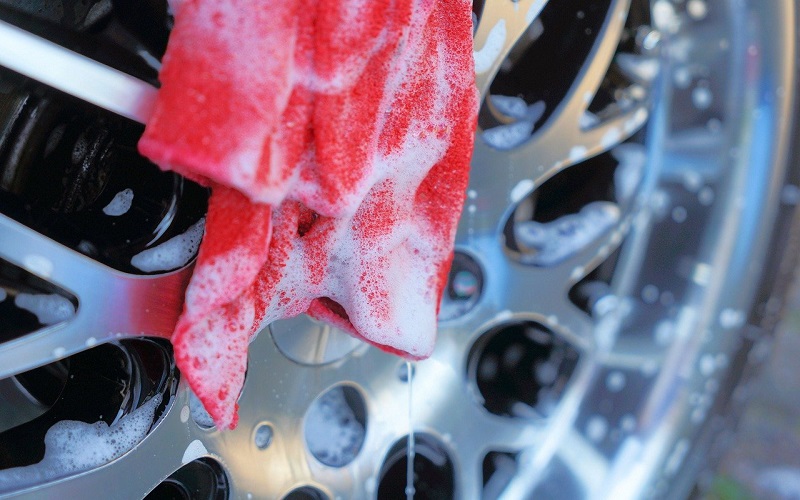 Walk into any auto hardware store and you will be bewildered with the choice of equipment and accessories to buy for your auto detail shop. It seems they now have tools for every conceivable detailing task you can think of or imagine. However, rather than be an equipment junkie, you want to choose wisely the tools of the trade for your auto detail shop. After all, they are the efficiency boosters that will help you deliver quality services to your customers and stay ahead of your competition. Here we review some of the basic items you will need to stock in your auto detail shop:
What Equipment Does Your Auto Detail Shop Need?
Cleaning System
A sturdy cleaning system is a no brainer. Before starting any detailing, you want to get rid of as much gunk as possible from the vehicles you are dealing with.
The newer technology cleaning systems such as pressure washers and steam cleaners are designed to use smaller volumes of water. Steam cleaning systems are well-reputed to fight off stubborn scraps and stains. Also, to get into unreachable cracks and simultaneously sanitize the most dirty areas. They can be adjusted to hone in on each section to be cleaned. In contrast, the classic hose-like contraptions use more water. They also splash a voluminous amount of dirt and water all over the shop.
Cleaning Tools
Both the exterior and interior of a vehicle consists of tens of thousands of parts that serve different functions. For example, mechanical, electrical, electronics, ergonomics, aesthetics, or a combination. Naturally, the materials they are made from vary just as much, and thus require different cleaning tools to give each of them a thorough wash and clean.
For instance, for tires and wheels section, you have the option of using brushes with brass bristles. Alternatively, you can choose more expensive ones made of Tampico natural bristles – with a soft to medium texture – for washing and brushing down dirt and grime. To be able to get into the narrow inlets of the wheels, you will also need tree brushes.
For dealing with the car body, softer brushes made from nylon and polystyrene are popular for washing your vehicle's body surface. They tend to be resilient to acids and detergents.
Moving into the car, where carpets and floor mats are in focus, nylon bristle brushes are the way to go as they enable an agitating cleaning action to help remove lodged in dirt and stains. All in all, with the right cleaning tools and towels for each of the different surfaces, you will clean them all efficiently and fast.
Detergents
When the hard and stubborn contaminants elude the general surface cleaning techniques, it's time to bring out the "big guns" in your cleaning arsenal. That is why pre-cleaners, cleaners, shampoos, degreasers, and other removers are staples in all detailing operations. Fortunately, you now have the option of detergents and cleaners that are biodegradable, non-corrosive, and use less chemicals. These go a long way to ease the management of your waste water containment and disposal while keeping costs to a minimum.
Dual Action Polisher and Rotary Buffer
Detailing is about restoring the vehicle to as crisp, sheen-like and pristine a state as your customer cn imagine. For that, you will need a Dual Action Polisher (DA Polisher) and a rotary buffer.
In order to take a vehicle from a clean state to a showroom status, you can use your hands to coax the oils, polishes and waxes into the bodywork's microscopic pores. Also, you can use a DA Polisher to get a more seamless and silk-like finish.
The DA Polisher is multi-purpose as it can double up as a carpet shampooer. Additionally, it can perform as an orbital buffer by swapping over each of its various velcro enabled attachments. They are sized right to fit into tight areas and are light weight.
Medium-depth scratches and scrapes are common on most of the vehicles that come through your auto detail shop. You can thrill your customers if you can make those almost disappear. This is where a rotary buffer – with its stronger rotating motion – comes in handy. Its vigorous force helps to smooth over the scratches. Be careful to not over do it and end up removing too much of the paint's clear coat.
Wet-Dry Vacuum for Your Auto Detail Shop
Throughout the day while you and your staff get through the auto cleaning and detailing work, everyone will be creating more than their fair share of messes in your auto detail shop.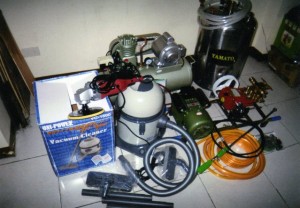 Detailing is all about cleanliness, sanitation, fresh odors and, of course, good looks. All of which should reflect in your auto detail shop itself. A wet-dry vacuum makes for the equipment of choice to pick up the mess, both wet and dry on a regular basis, from your garage and workshop areas. They are nice to have especially when you have to vacuum down the deep trunks of larger SUVs, RVs, or even boats.
Conclusion
Unlike many other options, starting a car detailing business can be an affordable and achievable undertaking. With a mobile detailing unit or an auto detail shop, you will not need too much equipment, tools, and space. As you saw, a few tools, machines, and detergents can get you ready to start in no time. Additionally, you can even buy some used car wash equipment items to help you cut on startup costs.
If you are keen on starting your own auto detailing business, but are not sure where to start, consider going with a reputable franchise brand like DetailXPerts. Our proven system will give you all the franchise training and support you need. Call us at 877-317-9737 for more inormation.
Enjoyed this post? Sign up for our newsletter to receive more valuable business and franchise info, ideas, and extras!